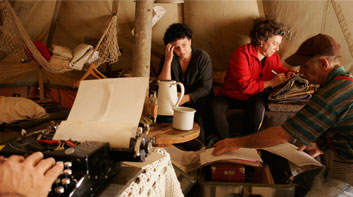 Production Team
Blessed Is the Match
Roberta Grossman – Director
Lisa Thomas – Producer
Marta Kauffman – Executive Producer
Joan Allen – Narrator
Dyanna Taylor – Director of Photography
Sophie Sartain – Writer/Co-Producer
Blake West – Editor
Todd Boekelheide – Composer
ROBERTA GROSSMAN, DIRECTOR/PRODUCER
An award-winning filmmaker with a passion for history and social justice, Roberta Grossman has written and produced more than forty hours of documentary television. She was the series producer and co-writer of 500 Nations, the eight-hour CBS mini-series on Native Americans hosted by Kevin Costner. Grossman's feature documentary, Homeland: Four Portraits of Native Action, premiered in February 2005, and has screened and won awards at more than forty festivals worldwide. Other writing and producing credits include In the Footsteps of Jesus, a four-hour special for the History Channel; Hollywood & Power: Women on Top, a special for AMC; The Rich in America: 150 Years of Town and Country Magazine for A&E, The History of Christianity: the First Thousand Years, a four-hour special on A&E, Medal of Honor, a six-part television series produced for U.S. News & World Report, and Heroines of the Hebrew Bible and Judas for the A&E series Mysteries of the Bible.
LISA THOMAS, PRODUCER
An innovative entrepreneur, activist, philanthropist, film producer and Grammy Award-winning music producer, Lisa Thomas is best known as the cofounder and former CEO of Clif Bar, Inc. From the moment it was introduced to the marketplace in 1992, Clif Bar – an all-natural energy bar – was a success. Clif Bar, Inc., appeared frequently on the annual Inc. 500 list of the fastest growing privately held companies, and in Working Woman Magazine's 500 fastest growing companies owned by women. Thomas was named Ernst & Young Entrepreneur of the Year in San Francisco in 1998. In addition to managing a rapidly growing and thriving company, she focused heavily on developing a corporate culture that emphasized social and personal responsibility. Thomas executive produced the feature documentary Homeland: Four Portraits of Native Action (2005). She also produced Sacred Ground, a companion album to Homeland that won the 2005 Grammy Award for Best Native American Album.
MARTA KAUFFMAN, EXECUTIVE PRODUCER
Marta Kauffman co-created and executive produced the Emmy Award-winning series Friends. Previously, Kauffman co-created and served as co-executive producer on the critically acclaimed comedy series Dream On. While on Dream On, she received an Emmy Award nomination and a CableAce Award. Kauffman also co-created the comedy series The Powers That Be for Norman Lear. Most recently, she served as executive producer on the one-hour drama Related on the WB. She also co-created and served as executive producer on the comedy series Family Album and Veronica's Closet, starring Kirstie Alley. In addition, she served as an executive producer on the series Jesse, starring Christina Applegate. A Philadelphia native, Kauffman began her writing career at Brandeis University, where she met her then writing partner of over 25 years, David Crane. Kauffman serves on the Board of Trustees of Oakwood School in Los Angeles and has been named one of the 25 Most Influential Mothers by Working Mother magazine.
JOAN ALLEN, NARRATOR
Three–time Oscar nominee Joan Allen is one of the film world's busiest actresses. In 2000, she was nominated for a Golden Globe, a SAG Award, an Independent Spirit Award and an Academy Award for Best Actress for her starring role in The Contender. For her role in 1996 as Pat Nixon in Oliver Stone's Nixon, she received an Academy Award nomination for Best Supporting Actress and won 7 critics association awards, including the L.A. Film Critics Association and the National Society of Film Critics Awards. Allen received her second consecutive Best Supporting Actress Oscar nomination in 1997 for her role in Arthur Miller's The Crucible. She has appeared in numerous other feature films including Yes, The Upside of Anger, Off the Map, The Bourne Supremacy, Bonneville, Pleasantville, Face–Off, The Ice Storm, Compromising Positions, Peggy Sue Got Married, Manhunter, Tucker, Ethan Frome, Josh and S.A.M., In Country and Searching for Bobby Fisher. Allen is also one of the New York theater world's most honored actresses and winner of every major prize for her work on and off–Broadway.
DYANNA TAYLOR, CINEMATOGRAPHER
Dyanna Taylor's cinematographic work is long and distinguished. She won the Peabody Award for the film Winter Dreams, a biography of F. Scott Fitzgerald, and won the MUSE award from New York Women in Film and Television recognizing her cinematography. Her other credits include 500 Nations, Homeland: Four Portraits of Native Action, the Academy Award winning Common Threads: Stories from the Quilt, and Agnes Martin: With My Back to the World, as well as dramatic and non-fiction films shot both nationally and internationally. Dyanna directed Vanished, an evocative film on the life, work, and disappearance of the young American author Everett Ruess. In addition, she co-produced and directed Annapurna: A Woman's Place for ABC.
SOPHIE SARTAIN, WRITER/CO-PRODUCER
Blessed Is the Match is Sophie Sartain's first feature documentary script. Her past positions include executive director of editorial services for MGM Home Entertainment and managing editor of Sony Online Entertainment, where she oversaw a staff of 17 writers, editors and researchers. In 2004, she co-created and co-executive produced the VH1 two-hour special, Fortune Files. As a freelance writer, her clients have included 20th Century Fox Home Entertainment, Sony Pictures Home Entertainment, New Line Home Entertainment and ABC Radio Networks. Sartain has collaborated with Roberta Grossman on several film and media projects, including The Rich in America: 150 Years of Town & Country Magazine (A&E) and 500 Nations (CBS).
BLAKE WEST, EDITOR
Blake West's editing experience includes documentaries, trailers, music videos, television shows, short films, as well as feature films. He has worked with networks and studios such as HBO, Showtime, Cinemax, VH1, MTV, AMC, IFC, Bravo, Channel 5 (UK), Channel 4 (UK) and Dimension Films. Some of his credits include Hell Ride (Dimension Films, 2007), Debating the Enigma of Hitler's Sexuality (HBO, 2004), Women on Top: Hollywood & Power (AMC, IFC, WE, 2003) and The Cell (National TV ad campaign, 30-second spot). He was the senior editor on the five-hour special From the Waist Down: Men, Women & Music (VH1, 2001). His editing project, Homeland: Four Portraits of Native Action, took home two awards at the 2005 Santa Barbara International Film Festival.
TODD BOEKELHEIDE, COMPOSER
Todd Boekelheide started working in film in 1974 at American Zoetrope, Francis Ford Coppola's production company in San Francisco. In 1976 he worked as an assistant editor on Star Wars, and went on to edit picture and sound on The Black Stallion. This film kindled an interest in film music, so he began music studies at Mills College. As he began to develop his film-scoring career, he also specialized as a rerecording mixer, and won an Oscar for mixing the music on Amadeus. He has scored several feature films, including Dim Sum and Nina Takes a Lover, and documentaries, notably Hearts of Darkness: A Filmmaker's Apocalypse. In 1999 he won an Emmy for his score for the documentary Kids of Survival: The Life and Art of Tim Rollins and the KOS. Up-to-date credits information can be found at www.tobomusic.com.