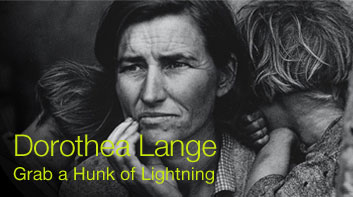 I will set myself a big problem.
I will go down there, I will photograph this thing,
I will come back, and develop it.
I will print it and I will mount it.
And put it on the wall - all in twenty four hours.
I will do this to see if I can just grab a hunk of lightning.
Dorothea Lange
Grab a Hunk of Lightning is a 90-minute film on the photographer, Dorothea Lange. It is also an investigation of the creative process, and the cost of a creative life.
Dorothea Lange was a photographer whose work is most often identified with images of the Great Depression. She photographed the disenfranchised -- the migration to the West during the Dustbowl, extreme poverty in the streets of San Francisco and throughout the United States, and the Japanese Internment. Lange summed up her approach to photography when she described her direct method for creating social change: "We have let them speak to you -- face to face." Lange also recorded intimate human emotions, describing the critical public policies and decisions which helped to speed the urbanization of her home state, California. In short, she photographed the backdrop of the history of her time, the history she experienced, through the eyes of humanity.
But this film is more than a biographical re-telling of an artist's life, beyond a narrative of America's 20th century. This film simultaneously illuminates these historic moments while revealing the personal price to the photographic achievements of Lange. The film invites you to look closely at Lange's family dynamics, her muses – both men – and her mission with the camera. As the film reveals her work, it also reveals the cost of a creative life – the cost to her family - her children, her marriages, and her extended family. We see her great silver gelatin successes, and, at times, her personal failures.
See Director Dyanna Taylor interviewed about Dorothea Lange