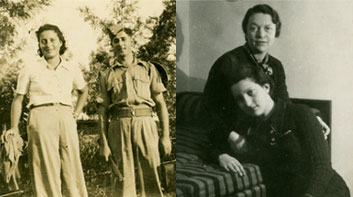 More About Senesh
ONLINE RESOURCES
Hannah Senesh Legacy Foundation
Biography of Hannah Senesh: Short | Long
BIBLIOGRAPHY
Senesh, Hannah. Hannah Senesh: Her Life and Diary, The First Complete Edition
Jewish Lights Publishing, 2007
Atkinson, Linda. In Kindling Flame
The Story of Hannah Senesh 1912-1944. New York: Beech Tree Books, 1985.
Bauer, Yehuda. A History of the Holocaust
New York: Scholastic, 2001
Braham, Randolph L. The Holocaust in Hungary
A Selected and Annotated Bibliography: 1984-2000. New York: Columbia University Press, 2001
Dawidowicz, Lucy S. The War Against The Jews 1933-1945
New York: Holt, Rinehart and Winston, 1975
Gilbert, Martin. The Holocaust: A History of the Jews of Europe During the Second World War
New York: Henry Holt and Company, 1985
Hausner, Gideon. Justice in Jerusalem
New York: Schocken Books, 1978
Hay, Peter. Ordinary Heroes: The Life and Death of Chana Szenes, Israel's National Heroine
New York: Paragon House, 1989
Hecht, Ben. Perfidy
New London, NH: Milah Press, 1997
Hilberg, Raul. The Destruction of the European Jews
New York: Holmes & Meier, 1985
Masters, Anthony The Summer That Bled: The Biography of Hannah Senesh
London: Michael Joseph, 1972
Palgi, Yoel. Into the Inferno
New Brunswick, NJ: Rutgers University Press 2003.
Ransom, Candice F. So Young To Die
New York: Scholastic, 1993
Sachar, Abram L. The Redemption of the Unwanted
New York: St. Martin's Press, 1983
Schur, Maxine Rose. Hannah Szenes: A Song Of Light
Philadelphia: Jewish Publication Society, 1996
Syrkin, Marie. Blessed Is the Match: The Story of Jewish Resistance
Philadelphia: Jewish Publication Society of America, 1947
Wasserstein, Bernard. Britain and the Jews of Europe 1939-1945
New York: Oxford University Press, 1979
Weissberg, Alex Desperate Mission: Joel Brand's Story
New York: Criterion Books, 1958.
Whitman, Ruth. The Testing of Hannah Senesh

Detroit: Wayne State University Press, 1986